Quick Easy Gingerbread Cookies Recipe for the Holidays or Anytime. Gingerbread Cookies or Gingerbread Men are Easy and Make a Great Food Gift for Any Cookie Lover.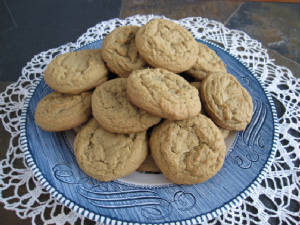 Gingerbread Cookies

3 c flour
1 1/2 c brown sugar
1/2 tsp baking powder
1/2 tsp baking soda
2 eggs
2 sticks butter, soft
1/3 c mollasses
pinch ground ginger
pinch ground clove
1/2 tsp salt
1 tsp vanilla

Combine flour, baking soda and baking powder with whisk in large bowl, set aside. Combine sugar, and butter together and beat on medium speed for three minutes. Add eggs, vanilla, ginger, clove, molasses, and salt, beat for two minutes. Add flour mixture and mix by hand until dough is formed. Place 1 tbsp dough on greased cookie sheets about 12 per sheet (3 across and 4 down). Bake 375* for 8-10 minutes (one sheet at a time for consistency). Remove from oven and let cookies rest on sheet for two minutes then transfer to open paper grocery bag to cool.