Quick Easy Beef Fajitas Recipe with soft tortillas and spicy beef, grilled onions, and peppers. Beef Fajitas go well with quick spanish rice and shredded cheddar cheese.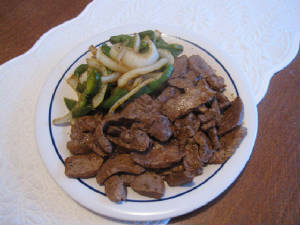 Beef Fajitas
2 lb sirloin steak, cut in thin strips
1 green pepper, cut in strips
1 onion, cut in strips
2 tbsp oil
2 tbsp salsa
1 pkg fajita seasoning
1 tsp chili powder

Toppings: Diced tomato, shredded lettuce, shredded cheese, sour cream, salsa, refried beans, guacamole, sliced jalapinos.

In medium size mixing bowl, place meat, fajita seasoning, and salsa, set aside.
In large fry pan, place oil, onion green pepper and chili powder. Fry on high heat for a few minutes until browned. Remove from pan and place in bowl. Place meat in pan and fry until desired doneness. Place meat on platter with green peppers and onions. Serve on flour tortilla with toppings.