Quick Easy Chocolate Cake Uses no Egg and only Takes 5 Minutes, Then In The oven It Goes. Great for Egg Allergies. Make Cupcakes and Frost For Birthdays or any Party.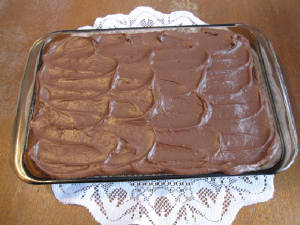 Quick Easy No Egg Chocolate Cake
2 1/2 c flour
1/2 tsp baking soda
1/2 tsp baking powder
1 1/2 c sugar
1/3 c oil
1/2 c baker's cocoa
1/2 tsp salt
1 tsp vanilla ext1 1/2-2 c water add gradually
In large mixing bowl, combine all dry ingredients with wire whisk. Then add water and vanilla, mix until smooth. Pour into 9x9 baking dish (glass). Bake in pre-heated oven 350* for 35 minutes.
Note:
May be covered with frosting or strawberries and whipped cream, or ice cream. I've topped it with cherry pie filling blended with whipped cream, Yummy.